What is the GSL Affiliate Program?
Go Social LAb Affiliate Program allows everyone on the web to earn money by promoting the best social media panel in the market. As it is one of the best performing social media marketing tools, it is highly salable. So affiliates can frequently sell this service to maximum people. This program is highly suitable for:



Anyone who wants create a passive income and has an Internet access

Social Media Marketers, Bloggers, Webmasters, Email Marketers etc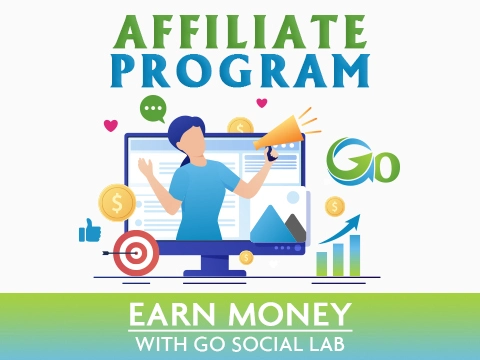 How To Start Earning With Go Social Lab?
1
Registration
Register
your personal account on gosociallab.com to get started as an affiliate.
4
Advertisement
By advertising your referral link, you will bring more users and earn more commission.
2
Save Your Referral Link
Once you've registered, go to the affiliate page, and save your referral link.
5
Track Your Progress
We offer you a specialized affiliate dashboard that provides you with every information you need to track your progress.
3
Share Your Link
The most crucial part of your success as an affiliate and gaining a recurring commission is sharing your link.
Get a referral link now!
How To Find Customers?

Blogs & Media
Publish an article about our offers
Publish contents regarding our social media marketing Service and tools on your blog




Use free platforms to publish contents if you don't have your own website
RESULT:
You would start making money by referring users to us from these places

Google / Facebook Ads
Use ad campaigns
Use your Google and FB business manager account to run ads




Use our social media marketing Materials to enrich your ads and send referrals.
RESULT:
Find targeted customers fast and close deals

Messenger / Email Traffic
Promote our services via messenger or email!
Email marketers can simply email their list with our referral links




If you don't have an email list, you can share our links on Messenger and other IM's
RESULT:
Generate even more income from your audience!

Social Media Networks
Promote on social media networks!
Lead potential customers from various social media to your affiliate link.




If you have your own partner's resource - promote affiliate links on it.
RESULT:
Reach targeted customers super fast and make a deal
Benefits Of the GSL Affiliate Program
Having an alternate income source that generates safe money is a BIG ADVANTAGE!. The GSL Affiliate Program is famous worldwide due to its transparency and highly attractive payouts. Affiliates in the affiliate marketing community love our program due its long and successful history of being a genuine social media marketing panel to sell.
Payouts
We guarantee for prompt payments, as long as you are part of the GSL affiliate program. You can sleect to get paid via many different payment methods. Minimum payout is 10$.
Lifetime Commission
Every user you bring to the GSL platform will earn you commission for as long as they use our services.
Advanced Monitoring
You can monitor your dashboard 24/7 and review your affiliate campaigns performance carefully. All your progress is displayed in a very easy manner.
User-Friendly Dashboard
Once you sign up, you will get complete access to the GSL affiliate dashboard. We have built this system to give you tailored and clear information to track affiliate performance.
Consistent and Rapid Growth
If you are a professional affiliate marketer, GSL affiliate program is the best affiliate campaign for you to promote. Our services are very popular and well informed in the market. All you have to do is just keep promoting and things will happen automatically.
Round the Clock Support
We are with you right from the start. The GSL team will train you about the product, share all affiliate marketing resources and ensure you achieve the best result of this outstanding affiliate program.
Don't Take Our Word For It. Hear What Our Affiliates Have To Say
You can now earn money for helping us spread the word. It's an easy, risk free way for you to earn commissions on your referrals.
Thank you for helping me earn money!
Completed my first 2K dollars in 1 month! One of the best panel which has all the things that I need in my social media! Start using this because i thought it is best alternative to many panels which are there on the market.

Best affiliate program ever!!!
In addition to offering social media services, the Partner Program has added a new revenue stream for us. We're helping our clients boosting their social media while earning thousands in recurring revenue. It's win-win-win.

Great way to earn passive income!
Just crossed 5K$ in affiliate commissions so far with GSL! The best part is, everyone who joins only says good things about the panel. It's the best smm panel that people actually love and can afford. Well done Go Social Lab team.

Still Have Questions? Read Our FAQ Below
Do you have questions about our affiliate program? Here are our most frequently asked questions.
At its simplest form, the Go Social Lab Affiliate Program allows you to earn commission for customer referrals using your unique affiliate link in content such as emails, blog posts, and webinars. Joining the program gives you and your business a simple way to add value to your site and audience while creating new revenue opportunities.
Upon registering on Go Social Lab you will receive your unique affiliate link which will track all of your referrals. When inviting users to register on GSL, always use your unique affiliate link. Our tracking cookies remain for 30 days, meaning that if someone click on the link, then you will be credited with the referral as long as the visitor register on the website, and you will receive 20% commision of every deposit he make for lifetime.
You're eligible to receive a commission for users that deposit funds, through your affiliate link. There is no maximum number of users you can refer, we want you to earn as much as possible.
The Go Social Lab Affiliate Program supports many payment methods for affiliate payouts. We do payouts on Paypal, Bank Account, Cryptocurrencies, Payoneer, Payeer, Perfect Money and more…
The minimum payout amount is the minimal commission amount that needs to be earned by affiliate to include it to payout report. The minimum payout amount is $10.
Self-referrals for affiliate purchases are strictly prohibited. You will not receive credit when adding funds through your own affiliate link.
Ready to Start Earning Money?
20% commission on every qualified user. You will continue to earn this amount on every user while the user is placing orders. Be the one to gain up to $3000 monthly with your recurring commissions.